What is Boudoir Photography & Why Should I Do it?
You may see pictures of people wearing intimate apparel and posing seductively. Whether you're on the road to self-discovery or wanting to try something daring, you may be wondering, what is boudoir photography? So we're answering that question and sharing what you can do to prepare as well as tips for the actual photoshoot.
What Is Boudoir Photography?
Boudoir photography is a style where subjects wear intimate clothes and pose sensually, yet the photos look glamorous and artistic. The word boudoir is French and refers to a woman's private sitting room or salon. This is why boudoir shoots usually happen in photo studios, bedrooms, or private dressing rooms to show intimacy.
Whether you're ready to express yourself playfully or still finding the courage to do so, we're going to help you plan for the best boudoir shoot experience.
Reasons to Try Boudoir Photography
The concept of boudoir photography dates back to the 1920s, where women wore lingerie or sometimes went nude to express sexuality. It's an exploration that aims to capture and highlight a woman's beauty, figure, and emotions.
A boudoir shoot is an excellent way to show how confident and spirited you can be in photos—or discover that through the process! When you look back at these pictures, you can recall this empowering stage of your life where you truly felt comfortable celebrating your body and yourself in every way.
Because of the setup's intimacy, you can learn how to best project yourself in front of the camera. You can also use the photos as a gift to your partner or even just for yourself!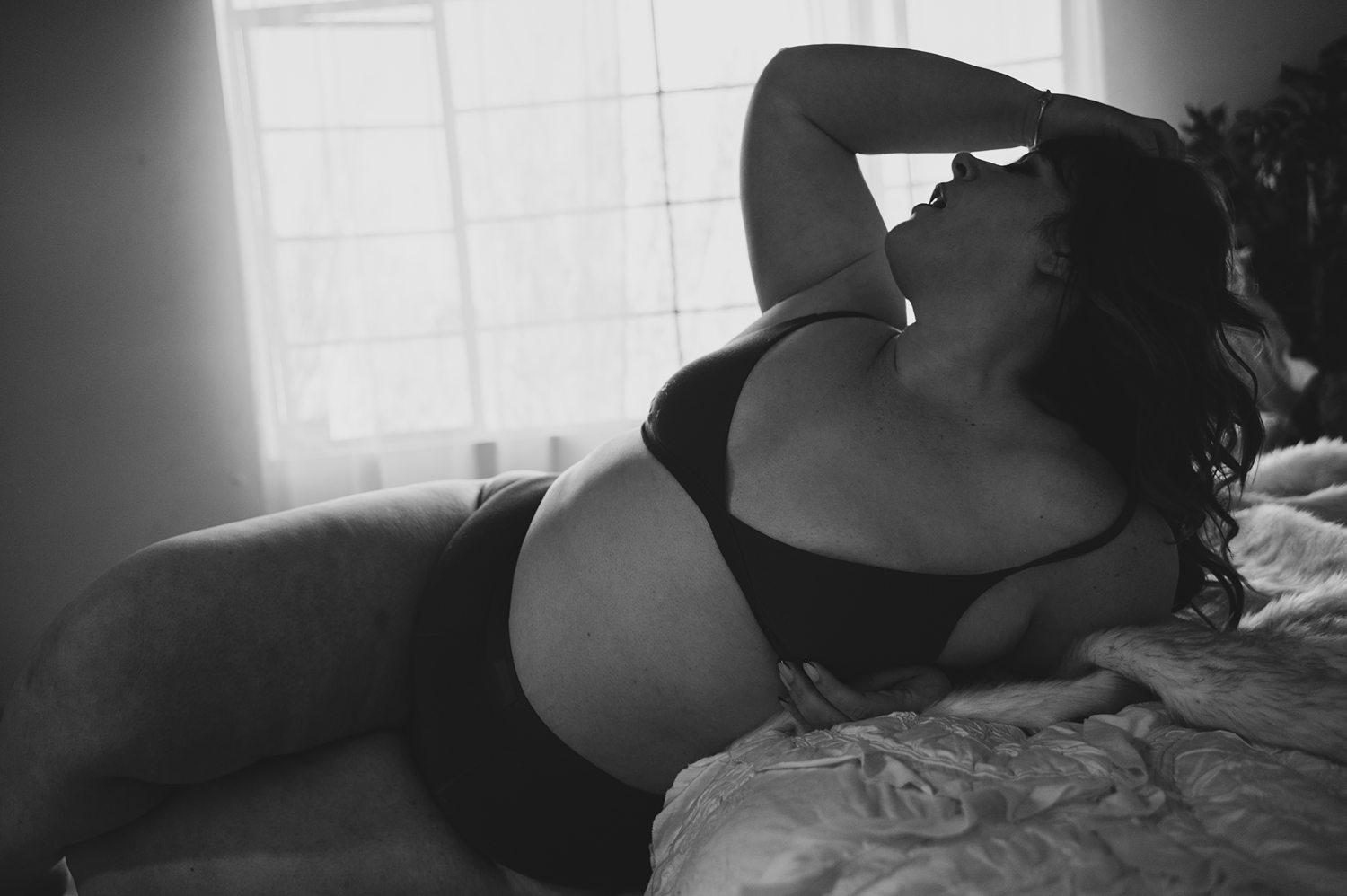 Styling for Boudoir Photos
The idea of a boudoir shoot may be outside of your comfort zone, so while you may want to wear something new, it's also vital that you feel good in it. Otherwise, this can reflect on your face and body language in your photographs.
Clothes: Wear whatever makes you authentic! It could be the sexiest lingerie piece, bustier, bodysuit, thigh-high stockings, or even a swimsuit or a cocktail dress. You can even make casual clothes appear sensual by using plain-colored camisole, sheer tops, distressed jeans, or your partner's oversized shirt.
Accessories: Boudoir photography makes use of minimal props as the goal is to emphasize your beauty. However, you can still use jewelry, scarves, garter belts, and heels to add context. If there is a personal item that brings meaning to your shoot, let your photographer know and see if there is a way to bring it into your session.
Hair and Makeup: Style yourself in any way that screams self-love! Bring out your fierce side with red hot lips, smokey eyes, and loose curls. A professional hair and makeup artist is a great addition to the self-care part of this experience.
Choosing the Location for a Boudoir Photoshoot
The location is essential as it influences the success of the shoot. It should be in a place where you can move comfortably.
Discuss with the photographer if you're open to a private studio session. Does their space seem comfortable and give you a good vibe? Perhaps you would feel most at ease when you do the shoot at home—that is sometimes a possibility. Just ask!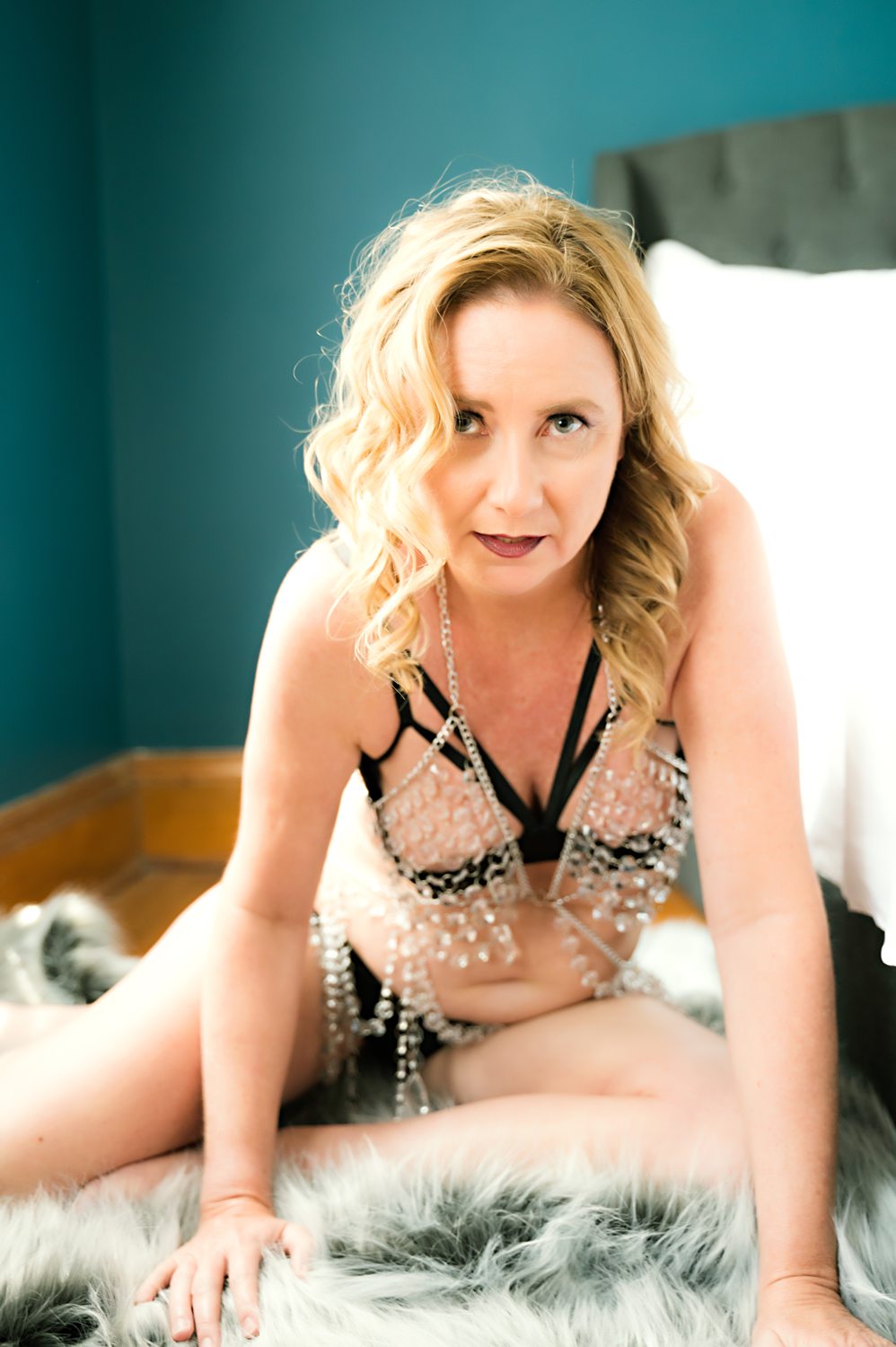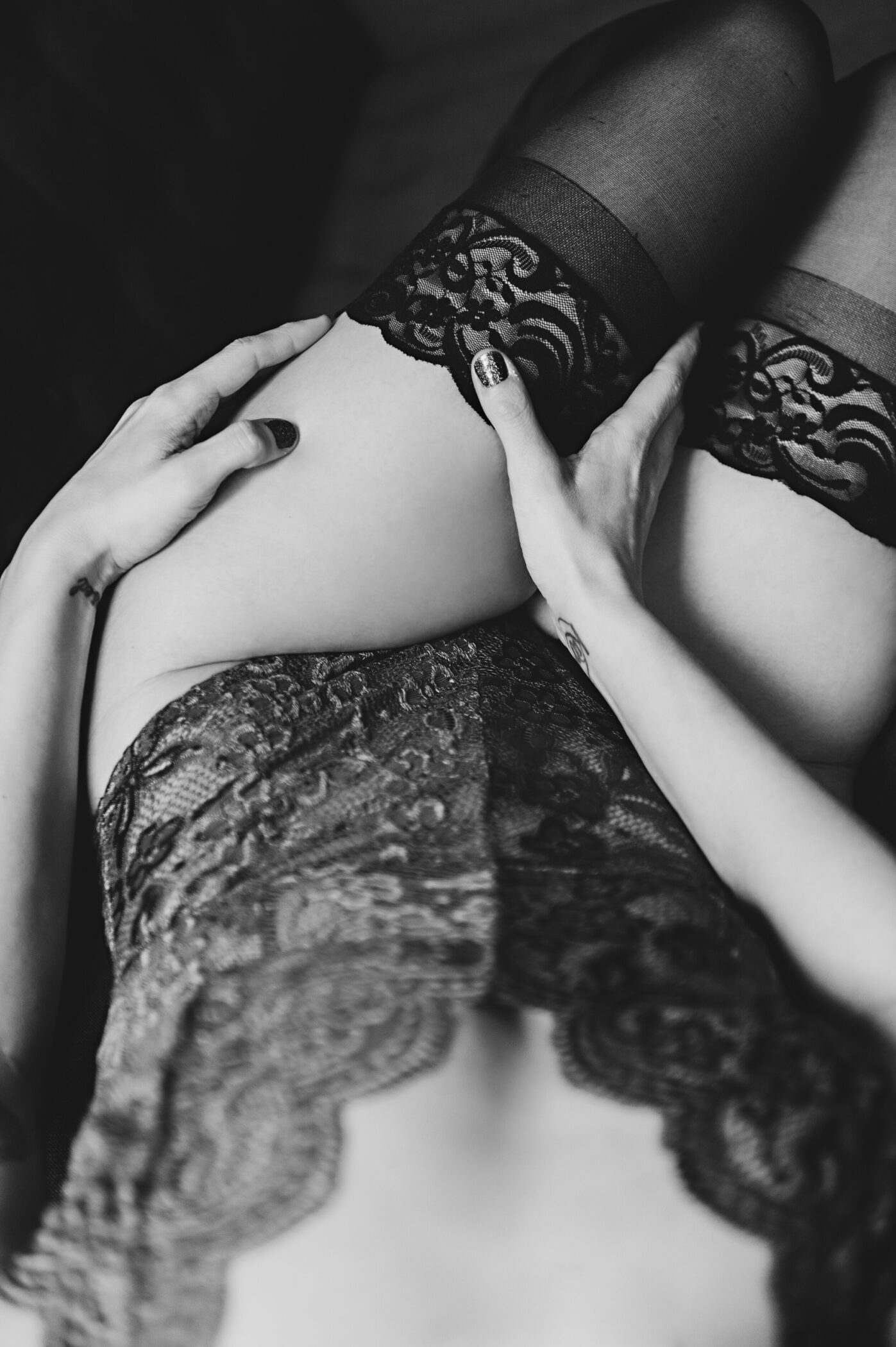 Tips to Have a Successful Boudoir Shoot
Keep in mind that confidence speaks volumes. About 79% of Americans feel unhappy with how their bodies look at times, with 37% feeling dissatisfaction when looking in the mirror.
Since a boudoir shoot is a great opportunity to rediscover the body's magnificence, there are different ways to prepare for it without feeling overwhelmed. You'll discover more confidence through the process.
Try Various Poses
Posing is one of the most crucial elements in boudoir photography as it sets the tone of your photos. A boudoir photographer knows how to guide you in posing to accentuate your curves and flatter every body type. Here are some poses that will make you glow in the limelight because you deserve it!
Sitting on the knees: This can serve as a warm-up pose to help shake down the nerves. You can play with your hair or part of your clothes to show lines and shapes. Shift back and forth to create movement and feel more carefree.
Using a chair as a prop: Simply sit back and try staring seductively at the camera.
Lying down: Whether it's on the bed or floor, lie down and angle your legs to draw attention to your shapely features.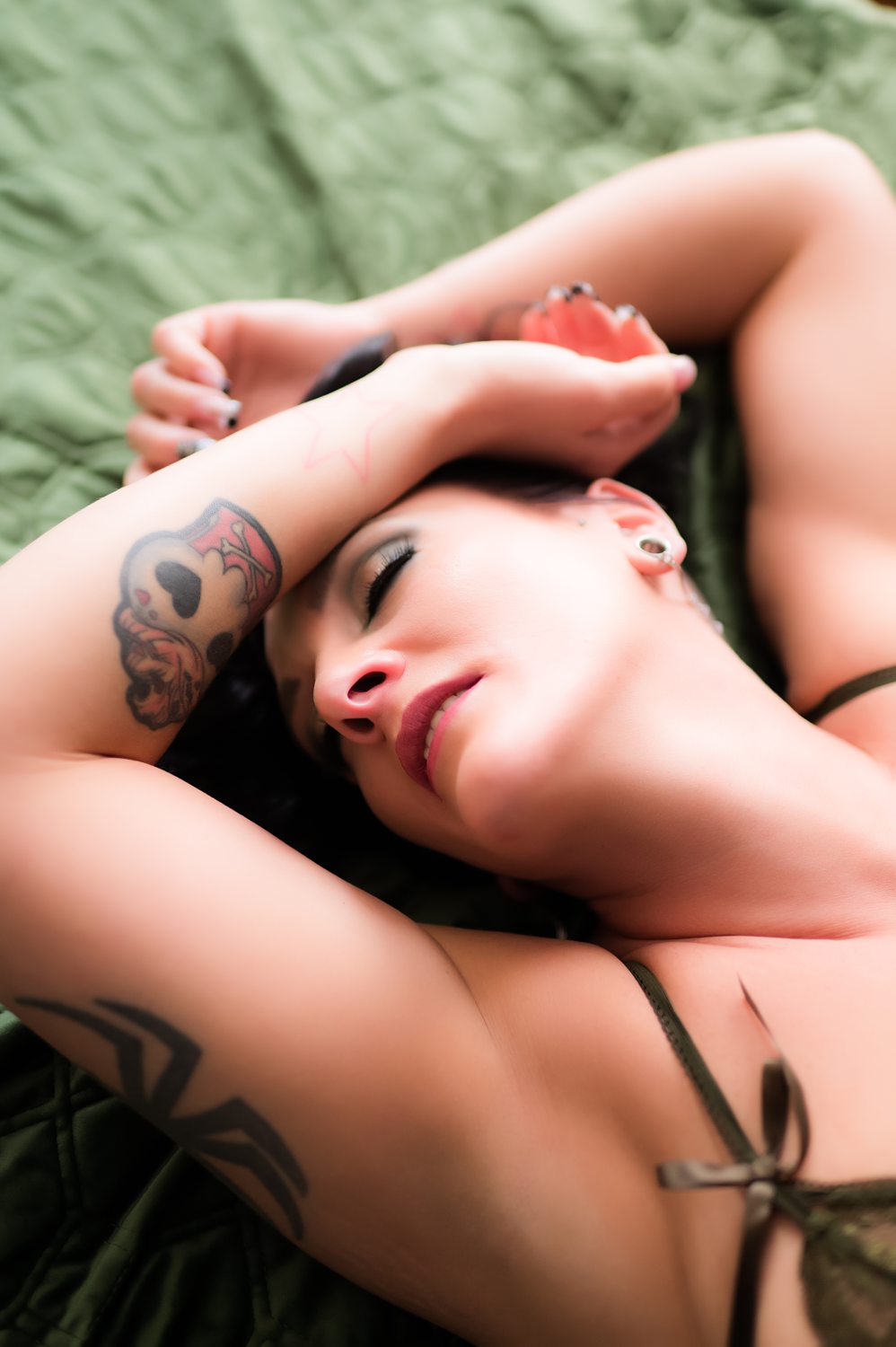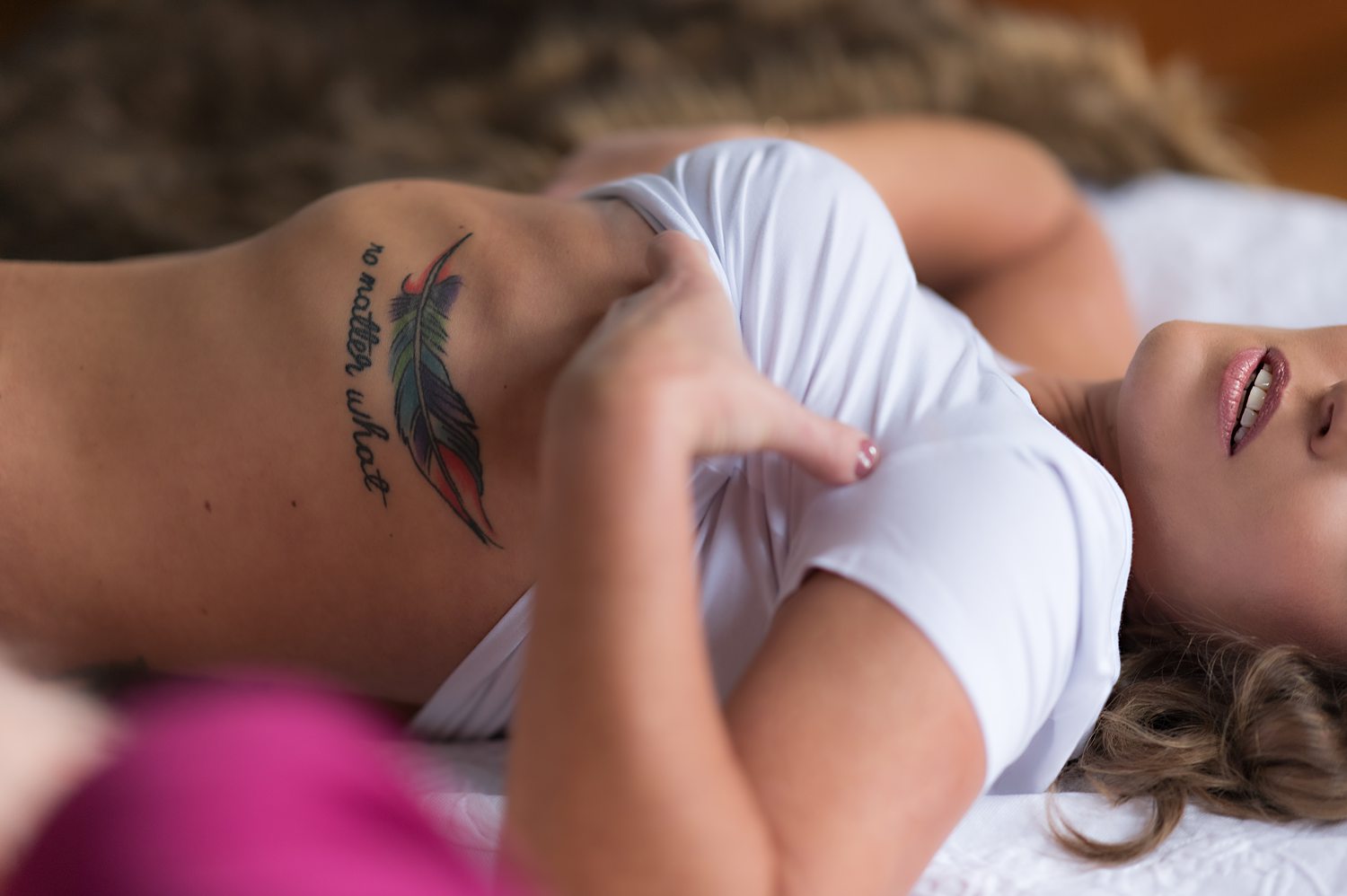 Communicate with Your Photographer
Boudoir photography can be an intimidating experience for some people. Particularly when this is your first time. Don't hesitate to set expectations and when you schedule a boudoir session in our Grand Rapids studio, tell the boudoir photographer about any limitations you may have—physically or emotionally.
Pamper Yourself
Before the day of the shoot, do the things you know that could pamper your skin. It can be waxing your body (at least 3 days out!), getting a massage, or moisturizing and exfoliating your skin. Hydrate a lot the week leading up to the shoot, it will plump up your skin.
Related Questions
After knowing the basics, let's answer a few more concerns about boudoir photography.
Can Anyone Have Boudoir Photos?
Yes, anyone can have boudoir photos as long as it's consensual between the subject and the photographer. The important thing is that you plan and feel comfortable before booking a shoot.
Is Boudoir Photography Safe?
Boudoir photography is generally safe as long as you're working with a professional boudoir photographer. Check reviews and testimonials. Study their work and see if their subjects look comfortable. Since boudoir photography involves posing in minimal clothing or even nude, you can keep the shoot's environment safe by setting boundaries and communicating properly. A true professional will respect and honor your wishes.
Conclusion
Boudoir photography is an art form and photography style showing romantic, sensual, and sometimes erotic photos of women as well as men and non-binary individuals. Whether it's for your wedding or personal collection, a boudoir shoot is a fun way to show your provocative side and have visual mementos of it while building self-confidence and getting more in touch with yourself through this beautiful form of self-expression!