Wondering what to expect at your Kalamazoo Michigan Boudoir Shoot?
Does the idea of a Boudoir shoot make you nervous?
Have you been thinking about booking a Boudoir shoot in Grand Rapids but you're still not sure?
The nervous-excitement can set in. What do you wear? What will the studio be like? Will it be fun?
First of all...BREATHE.
I'm here to answer all of your questions and more. Whether this is your first or 50th photo shoot, I want you to feel completely at ease. Because, after all, this is about you feeling great about yourself!
Every photographer does something different, but I thought it might be helpful to know what I do so that you can get an idea of what it may look like. Sound good? Then read on, my lovely!
STEP 1: ARRIVE AT MY STUDIO
Once you arrive at my home studio at my Victorian house in Kalamazoo, you'll probably notice a little something. Remember when I asked you about your favorite bands? Well, now it's the soundtrack to your day. The first step in making you feel at home!
STEP 2: REVIEW YOUR LINE-UP
We spread out all of your fabulous outfit choices. I recommend 3-4 options so we have options, but not TOO many options. We typically shoot 2-3 looks. We can also add in any special accessories and props. Creativity is welcome, but NO weapons, live animals, or children are!
STEP 3: HAIR & MAKE-UP
Now that wardrobe is done, it's off to hair and make-up! Experience rockstar treatment as you work together with my expert artist. Feel free to ask questions and to give input throughout the process.
STEP 4: OUR ONE-ON-ONE CHAT
Before we even start shooting, we sit down and have a one-on-one chat to go over how the shoot flows, set expectations, talk about your comfort level and goals for the day. Even though you've done homework before the session, today is a different day and I like to make sure we're both on the same page and in a safe place of understanding!
STEP 5: YOUR PHOTO SHOOT
Now that you're feeling (and looking) fabulous, it's off to the shoot! Don't stress about facial expressions or what poses you'll be doing! I coach you through each one and even show you pictures along the way.See how easy this is?!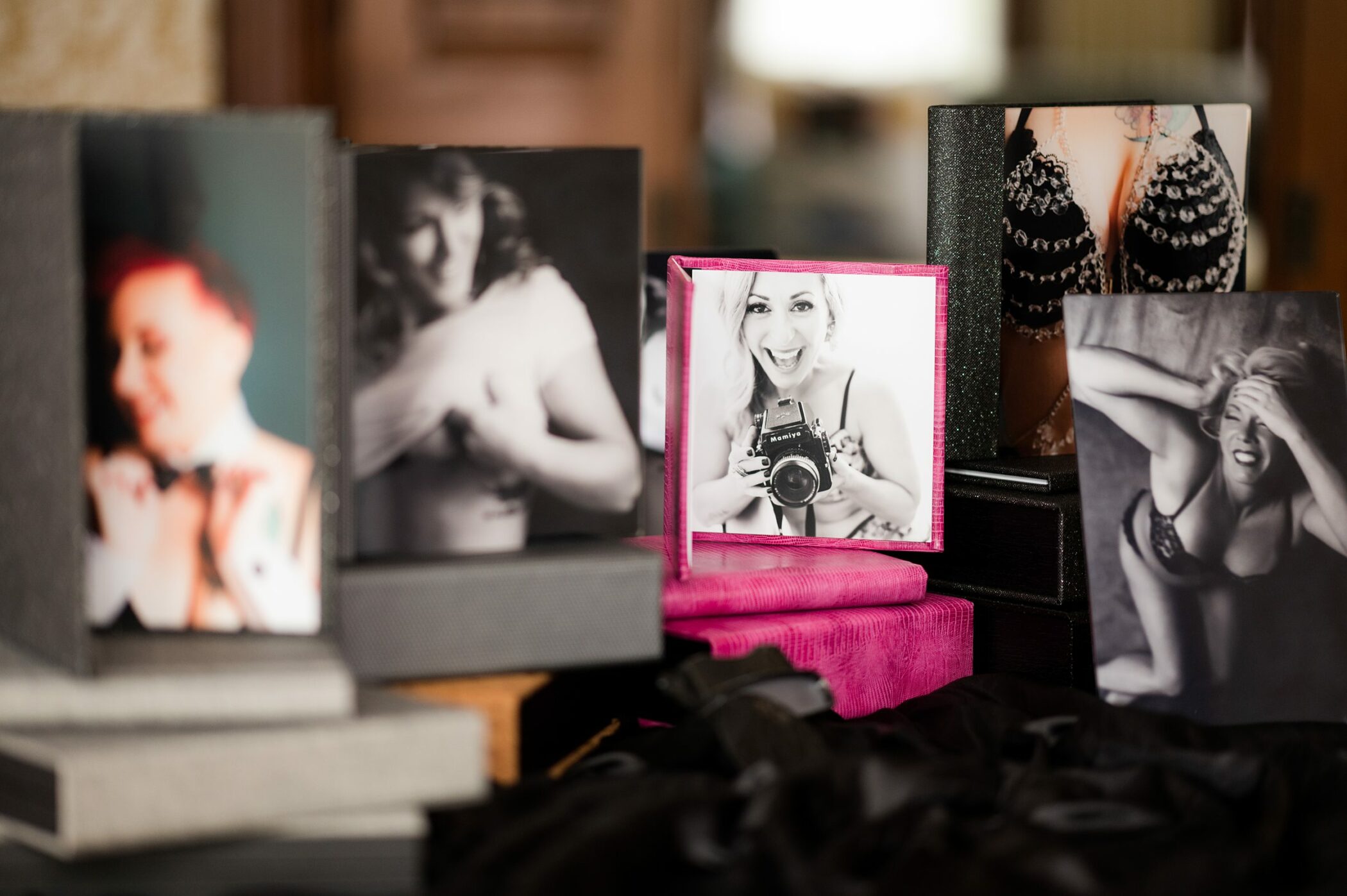 STEP 5: ORDERING SESSION
Two weeks after your shoot, we do an Ordering Session via Zoom. I share a sexy slideshow from your session and then we go through your collection of photos together. Then you simply choose your favorite photographs!
I hope this helped demystify the Boudoir experience a little bit. Was this helpful?
If you're ready for this self-love journey, I'd love to share my GRIT&GRACE experience with you and see if we are a good fit! It's my mission for you to have fun and feel AMAZING about yourself and your entire boudoir shoot experience. I'm here for you every step of the way!