How to Pick a Grand Rapids Boudoir Photographer
A boudoir shoot is an intimate experience. While empowering, it can also make some people vulnerable because it's outside of their comfort zone. This is why we're sharing tips on how to pick a Grand Rapids boudoir photographer so you can make the most out of the experience.
How to Pick a Grand Rapids Boudoir Photographer
Check the location's accessibility, the photographer's expertise, privacy policies, and client testimonials before choosing a boudoir photographer in Grand Rapids. In order to determine whether the photographer can meet your needs, it's important to take a look at the entire experience and investment. While staying within your estimated expenses, it's also critical to look at product options and rates. We offer financing to help our clients get what they want!
Choosing photographers can mean the difference between top-tier boudoir images and a horrifying experience. Here are the things you should consider when choosing boudoir photographers in Grand Rapids, Michigan.
Visit the Photography Studio
You may spend at least two hours in the studio for the shoot, and longer for preparation time with hair and makeup. It's important that you feel safe and comfortable the moment you step into the studio. We pride ourselves on that moment!
Because of this, we purposefully constructed our boudoir photography studio to be both charming and secure. Make sure the studio's furnishings, lighting, and background options fit your expectations.
Consult With the Photographer
A boudoir session exposes you physically, emotionally, and mentally. You need a photographer that makes you feel at ease and doesn't make you want to hide. This is why it's beneficial to speak with the studio in advance or even arrange a face-to-face meeting to determine whether you connect, if you feel at all uncomfortable.
Most people feel self-conscious about getting photographed, especially for an intimate boudoir shoot. One of the best ways to pick a boudoir photographer is to find out how the photographer or staff communicates with clients.
Most boudoir photographers are no strangers to questions about the body, so ask away and see how they will deal with them. These are some scenarios.
Is there someone who will guide you in posing and retouching your makeup? If so, how many people will be in the studio during the shoot?
Who will take your picture? Will you meet an associate photographer on the day of the session or the senior photographer you're speaking to now?
Can a photographer answer your dilemma about body perception, cellulite or body hair?
Does the photographer know how to suggest a lingerie selection in relation to your photoshoot theme?
Check the Photographer's Expertise
Boudoir photographers use a variety of styling, shooting, and editing techniques. While most can accommodate particular requests, it can save you time and hassle to pick a photographer that can produce what you have in mind.
Portfolio: A boudoir photographer's portfolio demonstrates their skill, allowing you to visualize what the shoot might be like. Can you find sample photos that fit the theme or feel you're planning? Do the photographs demonstrate the knowledge and skills required to pull off your desired setup?
Boudoir photography style: Do you want your pictures to look as if you're a painting from the Renaissance? Maybe you're looking for something that appears as if it belongs in a Vogue issue. Photographers have different shooting styles, so it's vital that you choose one that can fit your vision.
Post-processing: Do you need an editor who can significantly alter the body or just someone who can do minor retouching? Boudoir photographers use different presets, so check if the studio can provide the effect you want.
Determine Product Inclusions
Most Grand Rapids boudoir studios offer photography packages at varying rates. Some provide basic services such as the setup, a two-hour shoot, post-processing, and digital copies. Meanwhile, others have premium packages and a la carte items you can add.
Can you request a custom-designed album or will you only get a few prints?
Does a particular package include hair and makeup styling?
How many retouched pictures will you get?
Do you need to bring props or pay for additional styling?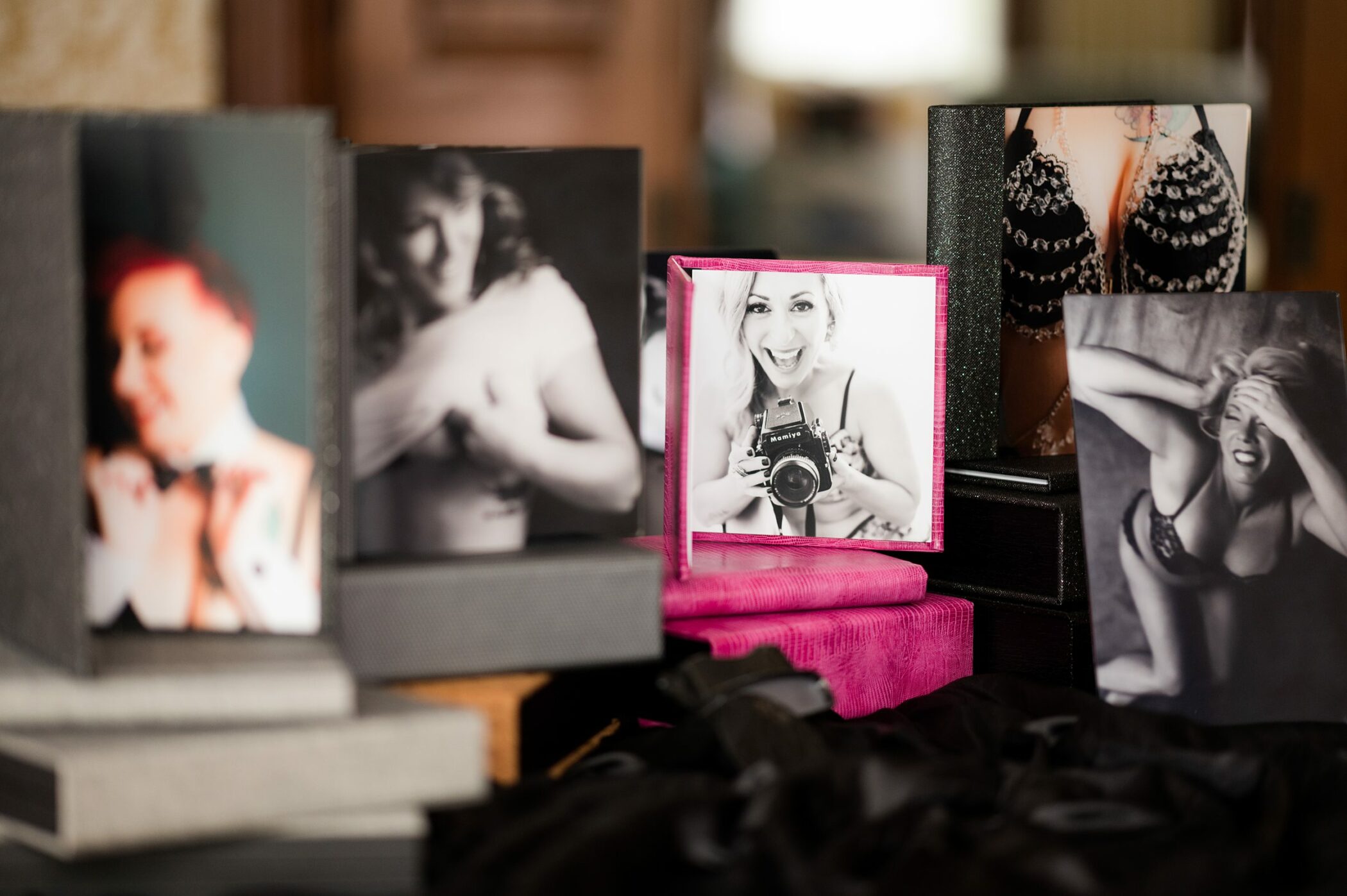 Compare Rates
Cheaper doesn't automatically help you save money, yet expensive isn't a complete assurance that you will get the best services. It's vital to balance client experience with rates and the services provided.
For example, some may offer a promo rate yet charge you for every addition you request. Others might merely demand a flat fee, covering everything from preparation to delivery.
Review Privacy Agreements
Most boudoir photographers require clients to sign a contract before the photoshoot. The contract should explain the confidentiality agreement and use of the pictures.
Your boudoir photos can serve as our portfolio. Rest assured that your images are safe with us and we won't upload the pictures online unless we have your consent.
Read Client Reviews
About 95% of people trust what other clients say about a business, both the positives and negatives. Go through the review section of the website, google, or social media account.
There you will see actual proof of whether they gave the photographer the rubber stamp of approval or if you should run away from them immediately.
Related Questions
What Kind of Boudoir Shoot Should I Do?
The kind of boudoir shoot you should do depends on the output you would like. For example, you can do a traditional session that uses lingerie and other skin-revealing outfits. For others, themed shoots like glam, contemporary, bridal, or beach/lake/nature babe are enticing.
What Makes a Good Boudoir Picture?
Good boudoir photos should highlight your body and face in a flattering way and highlight your personality! You must have a variety of angles featuring your assets or any part you want to emphasize, such as the neck, chest, lower back, buttocks, thighs, or legs. Be sure you have close-up and wide-angle shots.
Do You Bring Your Own Clothes to a Boudoir Shoot?
You can typically bring your own clothes to a boudoir photoshoot. Normally, we advise customers to have their own things so they can dress comfortably and in what they like. However, some studios, like ours, provide some in-house wardrobe selections to diversify your options.
Conclusion
When selecting a boudoir photographer in Grand Rapids, it's crucial to consider their service, client experience, expertise, location, product inclusions, pricing, and reviews. These factors can influence the final photos, your experience, and the investment cost.